Map & Directions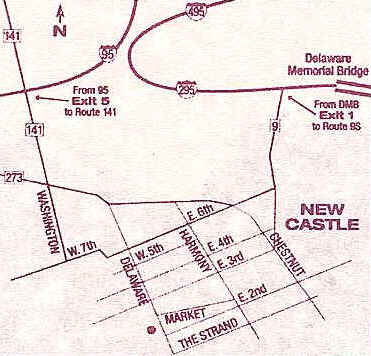 From Wilmington/Philadelphia ~ Going south on I-95 go South on route 141 at exit 5A in the direction of New Castle. Follow the directions below.
From Baltimore ~ Going north on I-95, take exit 5A to New Castle. You will drive parallel to I-95 for about 1/2 mile until a stop light on Route 141. Turn right at the stop light onto Route 141, follow the directions below.
Wilmington ~ You can also go South on Route 13 until you cross Route 141 then follow the directions below.
From I-95, you will go for a total of 3.2 miles to New Castle, driving past the airport on the right, just before you cross over State Route 13. Continue on over Route 13 for 1.3 miles through 4 more lights. At the 5th light which is just after the First Baptist Church on the right, take a left turn onto Route 9N. Drive for 0.6 miles past the Carrie Downie School & the New Castle Middle School on the left. The road will veer slightly to the right and you are just outside of New Castle. Cross over a railroad crossing, just after that, the road will split and you will stay right onto Delaware Street, just before the stop light on Route 9.

Stay on Delaware, go through the stop light at 6th Street and drive 3 blocks into the heart of town. The Terry House is located on the right at #130, directly across from 2nd street. Parking in on the Town Square. If there are no spots available, drive up 2nd street and do an immediate U-turn back up Market Street. This an original cobblestone street, so it is bumpy. Parking is allowed on both sides of Market Street.
From New Jersey ~ on Route 295. Take the 1st exit (Route 9 South) on the right (2nd turn - Route 9 S, New Castle Avenue/New Castle) after you cross the Delaware Memorial Bridge. Drive for 2.6 miles to New Castle. You will pass Crossroads Shopping Center & John G. Leach School on the right and the New Castle Masonic Temple on the left. After 1.7 miles, you will cross a railroad track. 0.4 miles from here, turn left at the sign saying New Castle. Turn left and immediately right after you cross for 0.2 miles to stop sign. Drive straight ahead onto 3rd Street and go 2 blocks, you will be on the edge of Town Square. Turn left onto Delaware Street. The Terry House is on the right at #130, directly across from 2nd Street.
---
Home | Accommodations | Directions
---
The Terry House Bed and Breakfast
Historic New Castle, Delaware


130 Delaware Street - New Castle, DE 19720

Phone: 302-757-1256 or Contact us by e-mail
Website: www.terryhouse.com

Website hosting and promotion by EW3D.com